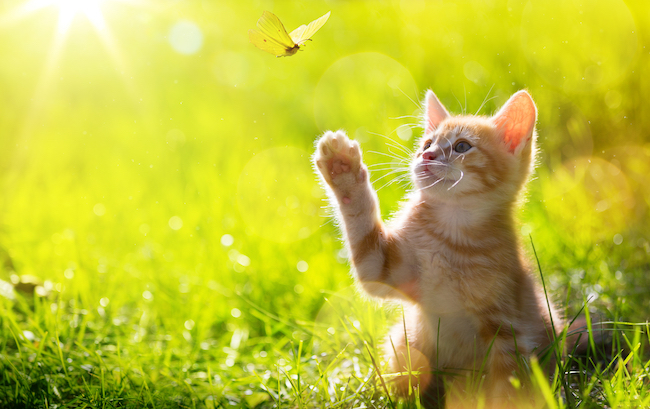 Every once in a while it is good to add some whimsy to your life. Scientific research shows that people who spend 20 minutes or more a day watching cat videos online, or looking up kitty pictures and memes, are actually happier people.  Let us infuse a fair dose of happiness in the world, with a handful of these playful pictures of cats large and small interacting with one of the world's most beautiful creatures: the butterfly!
If this isn't whimsical, we don't know what is!
butterfly sitting on cat nose via /r/aww http://t.co/aVQaEF2U9N pic.twitter.com/RrxdKBywXE

— CookieKiller (@rasa_and_nena) May 17, 2014
Just a little to the right, and this feline would've gotten him!
Today, it's #caturday! #butterfly #nature #lovecats #cats #cute pic.twitter.com/RkJO2cqdkq

— NANDOG (@nandogpetgear) February 13, 2016
Sometimes all kitties want is a friendly conversation.
https://twitter.com/dinadavies18/status/688056535625428992
…Or a butterfly kiss on the nose!
Black cat starring at butterfly pic.twitter.com/pVM7VuESCd

— Mayank (Petrol++) (@Mayankaryan084) June 15, 2015
The frustration of this scene is just unbearable!
@DarrekM :/ cheer up, Derríck. here is a kitten playing with a butterfly 🙂 pic.twitter.com/nEwTbokufP

— Not Brooke (@shinyvileplume) February 16, 2014
The biggest cats in the world are transfixed by these delicate creatures. (Just look at this lion's focus
Lions are just big playful cats "@planetepics: This is a photo of a lion that has become enthralled by a butterfly! pic.twitter.com/VsZMRg2XJT"

— Farah S. Al-Essa (@farahalessa) December 20, 2015
Even pretend butterflies are still vastly interesting to cats.
Like a butterfly https://t.co/4z0oc3ehap@catsofinstagram #catmylove #catsofinstagram #cats #whitecat

— Elisabetta (@beadele) July 19, 2014
This furry feline clearly illustrates the brilliant aesthetic of pairing yellow with grey!
playing with butterfly via https://t.co/IAvcZj6NC1 #cat #gato #neko #cats pic.twitter.com/XCopr2p6qT

— catsrimportant (@catsrimportant) November 24, 2015
This is just kitty-butterfly bliss!
#Cat playing with blue #butterflies

This #cats got the #Funk#butterfly pic.twitter.com/Yb3ULwH0vQ

— FunkCat Brown (@FunkCatBrown) May 18, 2015
Cats and butterflies are a springtime match made in heaven
"Hello, my friend. " #animals #cats #butterfly pic.twitter.com/JX5m7AZ1iP

— Maria=Michaela (@Mila_Layne2107) February 2, 2016