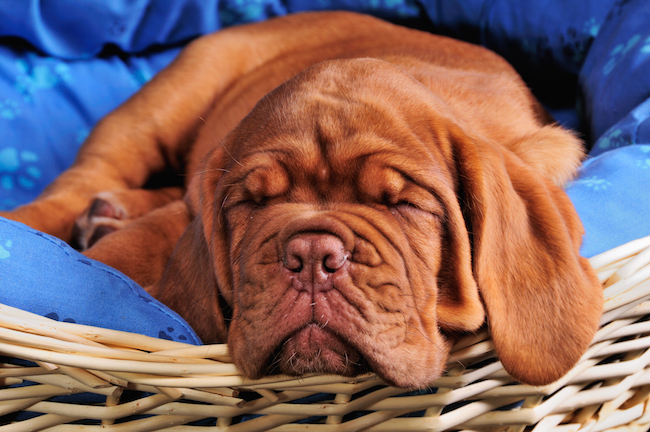 Many dog owners agree that if given the choice, their pup's preferred napping surface would be their human's king sized bed. Comrades to the core, canines love to be closest to the people they love, where all the pillows and blankets smell like their master. Though plenty of people don't mind sharing the comforter with their adoring pooch, the majority of us would rather give our dogs their own sleeping space. Chances are, if the bed is comfy enough (and there are treats involved when the pets are introduced to their new bed) your pup might end up preferring his pillow to yours!
In the modern age where extravagance allows for endless product options and choices, dog beds have become more that just rough mats, or large pillows made of fabrics like flannel, denim, corduroy, or sheepskin. Now there is a wide variety of dog beds to suit your canine's exact size, texture, and style preference.  Who knew dogs could be so picky!? Glance through the list below to get some ideas for which lap of luxury your dog would be happiest to lay in!
Chew-Proof Dog Beds:  This kind of pillow is ideal for teething puppies, or chomping dogs that can't quite seem to kick their habit. Sold as both a loose pad to fit in any crated area, or as stationary thicker dog beds, these mattresses are made with multi-layer contrast stitching to keep them free from tearing and chew marks.
Basket bed: The classic dog bed basket has a timeless appeal. Having not only the homey wood smell which is comforting to the dog, the pillow cushion offers a warm and a padded surface for a cozy snooze. (*NOTE: Warning: if your dog likes to chew, this kind of bed could easily become a tasty target. Bite marks will make the dog bed unsightly, and slivers in the mouth can be painful. Basket beds are usually best for older dogs, and not those that are teething.)  
Plush dog cave:  These stuffed beds closely resemble human sleeping bags, and are the perfect option for burrowing breeds, or dogs who like to snuggle down into a comforting enclosure.  Dachshunds and small terriers (who chase their prey into underground holes) will love snoozing in their private tunnel.  

Round pillow beds: Large, stuffed pillows have been the go-to dog beds for decades. Suitable for any size pup, the round pillow makes a subtle addition to any room the dog frequents. As the old saying goes, "if something isn't broken, don't fix it."

Bolstered beds: The bolstered bed is similar to the basic pillow, except there are built-in lining "walls." Usually wrapping around the square or round-shaped dog pillow, these short walls help keep the dog from slipping off the center, while offering additional support where they can lean against.
Cushioned crates: Dog owners that travel often with their pooch might find this to be the best option.  While they might not be as fluffy or cushy as some of the other beds, a padded crate is very practical. The waterproof outer layer of the pillow forces any water or other unwanted liquids to roll off easily.   (*NOTE:  Not every crate cushion may be water proof, we recommend only using this kind for travel. If the crate is your dog's every-day sleeping corner, perhaps consider a more durable and comfortable padded cushion for the dog to sleep on.)
Orthopedic dog beds:  These memory foam mattresses are built to offer comfort that will last the entirety of your dog's life. Secured with an interior waterproof mattress liner and a machine-washable outer layer, these beds are mold and moisture resistant. The subtle weight absorption of such dog beds are particularly helpful for pups with joint weakness, arthritis, or hip dysplasia, since they provide gentle support. (*Note: Orthopedic dog beds can be rather expensive, ranging from $75-300.)

Warming & Cooling dog mats: For dogs who are subjected to extreme climates, temperature sensitive mattresses are a helpful option.  Shiver-prone Chihuahuas who brave Canadian winters would find great comfort in sleep pad that uses the dog's own body heat to radiate warmth back to him. Similarly, the water-filled cooling beds require no electricity and offer a hardy surface where a Husky dog in the Arizona desert is guaranteed a refreshing nap. Most products have adjustable sizes, and are made with a microfleece, non-slip fabric.
Dog'gloo:  These enclosed igloo-shaped dog beds are a good option for outside dogs that need a warm "den" to snuggle in on cold nights. Built to retain the animal's body heat, this outdoor, weather resistant dog house/bed will offer a padded mattress and enough space to stretch out, in the rain or shine.

Raised aluminum cots: Another dog bed option is an elevated vinyl cot. These allow airflow to keep your dog's body temperature cool, and removed off of hot surfaces.  Outdoor canopy cots also come with a shaded roof overhead to protect the pooch from punishing sun rays.
Luxury dog beds:  For those canines who require just a bit of extra pampering, there is a wide variety of luxury dog beds. These may include, silk sheet indoor-canopy beds, dog-sized velvet sofas, plush couches, and washable leather mattresses and couches.
If a velvet pillow or canopy bed is not quite to your puppy's taste, you could also consider choosing one of these incredibly practical leather recliners. Now your pampered pooch will be sitting pretty whenever he goes to sleep!