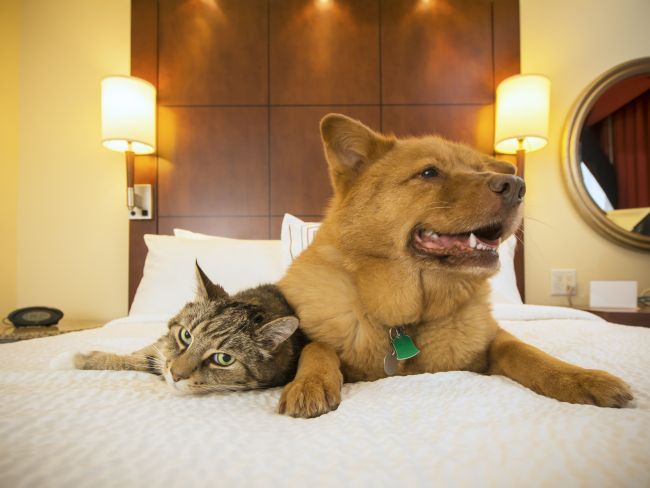 There are many aspects of caring for pets that we often overlook. One is caring for yourself, and making sure you as the pet-owner get what you need in order to be a more loving companion for your pet, and the other is spending quality time with just the two of you. Like all relationships, the dog-human or cat-human relationship is based on trust, affection and mutual respect. With busy lives and full schedules it can be easy to allow our pets to become nothing more than distant roommates in our home. Why not take a little pet-cation with your furry friend? It might be nice to have a fun and relaxing trip where your dog or cat can tag along with you. Even if a leisurely holiday is not something you can swing at the moment, if you have to travel, you might consider bringing your pet along! If you do, here are some of the best pet-friendly hotels in the country.
The Beverly Hills Hotel (CA)
In this iconic Hollywood classic, pets receive celebrity treatment when they stay in the Beverly Hills Hotel bungalows. From the personalized doggy-biscuits, and a handful of amenities for pups, this hotel will make your getaway a memorable (if not expensive) one. Visiting pets cost an extra $200 per day. In the same region, the
Peninsula Beverly Hills is another option that offers many more pet-friendly services for a far better price. Here dogs can order from special dog food menus, and can even be taken for a walk by the staff, or lounge on suede doggy-beds, only for a modest $35 extra per day! (California visitors have a whole slew of adorable places where animals can feel right at home. Carmel-By-The-Sea in particular has a long list of pet friendly hotels in the area!)
Boston Harbor Hotel (MA)
In the beautiful city of Boston, this hotel will provide treat bags, food bowls and dog beds, along with a variety of luxury dog spa treatments. The pup can go for a walk, have his nails delicately clipped, and his hair trimmed, shampooed and blown-dry all for a total of $100 per day of the visit.
The Broadmoor (CO)
In the city of Colorado Springs, this pet-adoring hotel truly goes above and beyond. Upon arrival, all canine guests receive treats, a comfy dog bed, a door hanger to notify maids of the dog's presence, and custom-made ID tags for the pooch. For all this, pet owners only pay $50 dollars, and they can pick up complimentary dog leash or collar at the in-house pet boutique.   (Coloradans seem to really love their pets, as that is not the only hotel in the state to make our list. The Little Nell hotel in Aspen has no weight limit on the size pet you can bring! Additionally, the Ritz-Carlton, Bachelor Gulch a 4-star hotel in Avon, Colorado is also welcoming to pets, offering fresh treat baggies, pet-massages and puppies toys as well!)
Woodlands Inn (SC)
The charm of Charleston, South Carolina is beautifully emphasized in this delightful hotel. Here a butler looks after the needs of you and your pet, providing custom meals when requested, and sound-proof rooms for particularly noisy pups. The dogs get in-room food bowls, treats, a bed, grooming and dog walking services all for a moderate cost of $25.
Trump International Hotel & Tower Chicago (IL)
This is the best deal we know of since the pups are pampered with water bottles, new toys, plush beds, and blankets. When the dog gets hungry, you can ring for room service that will bring up special doggy dishes from the chef, as well as healthy canine biscuits to snack on. Guests at the Trump International Hotel & Tower are only a few steps away from a dog park, as well as a variety of trails for those who want a lengthier day's walk. Unlike many other animal-welcoming hotels, pets can stay at this stunning Chicago accommodation for no extra fee at all!

Mandarin Oriental, Miami (FL)
Mandarin Oriental hotels are known for their lavish treatment of their human guests, so why should their canine visitors expect anything different? For a deposit of $200 (which is reimburse 50% upon checkout if there were no hygienic mishaps), dogs at the Mandarin Oriental enjoy their own special dog collar, treats, food bowls, and beds (turn-down service included). There are exercise classes that the dogs can enroll in, working with skilled dog trainers, and dining on delectable protein-rich dishes. Traveling to this hotel with your dog might make returning to the "real world" quite a challenge!